ePublication audits
Protect advertising spend | Increase brand trust
An ePublication audit is a commitment to verify the distribution figures of your digital magazine or newspaper and develop a relationship with your clients based on trust.
AMAA provide real, actual data about your publication, available to advertisers and media buyers nationally.
A committment to digital verfication differentiates your brand and product, giving you a competitive advantage and added credibility when selling advertising.
You will also gain access to cross-industry benchmarks established by AMAA.
Print + digital publishers can combine this data for a total average distribution figure.
How does it work?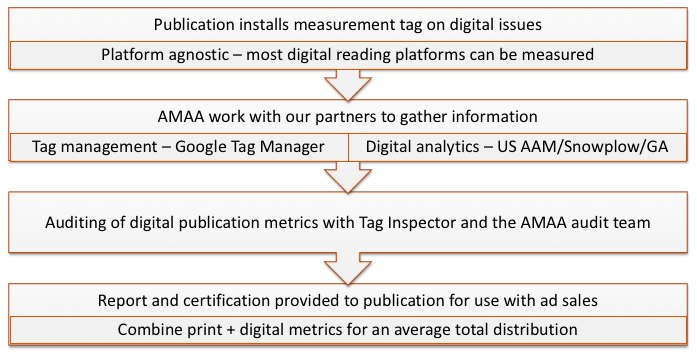 What information is verified
Average total distribution per issue

Unique digital distribution per issue

Combined print and digital distribution per issue

Digital format (replica or app)

Type of device ePublication was viewed on

Geographic spread
Register now
Joining the AMAA, you will participate with industry peers in setting new standards, become an advocate of audited data and accountability, increase your brand's credibility and gain access to the AMAA's member resources.
The annual cost for the audit service is $400 + $495 for membership (ex GST).
---
---